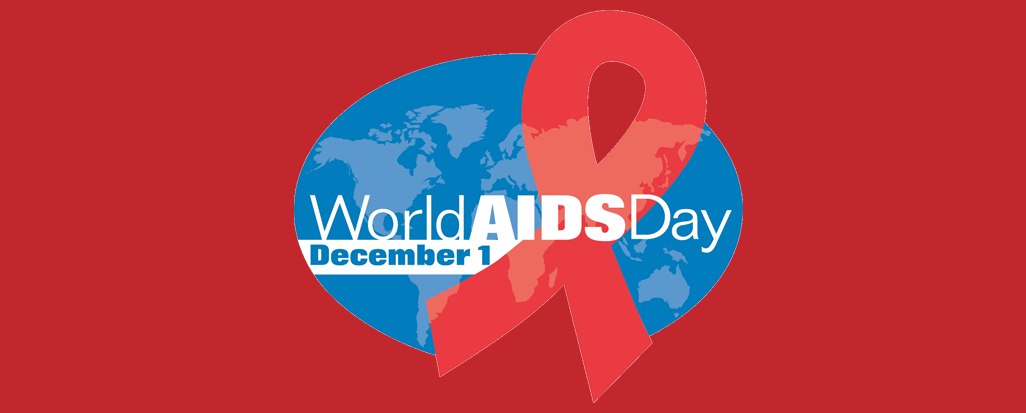 November 30
Parasols for Life
11/30/2022
10 am to 2 pm
2601 Tulane Ave New Orleans, LA 70122
RSVP at 504-821-7334 by 11/23/22
Join us to commemorate World AIDS Day (December 1st) by making parasols to remember individuals who passed away from HIV and celebrate those living with HIV. During this event, participants will make and decorate red ribbons, banners, and parasols to display during the HIV Weeks of Awareness events, including the Bounce Ball on Dec 10. These events are open to the public and are meant for the community. Space is limited. Please RSVP at 504-821-7334 by 11/23/22 to ensure adequate supplies.
December 1
HIV Ministers Breakfast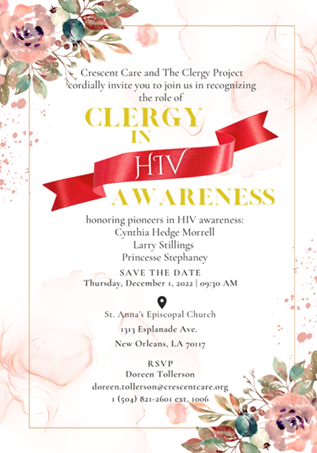 December 1, 2022
9:30AM
Location: St. Anna's Episcopal Church
1313 Esplanade Ave
Doreen Keeler-Tollerson 504.821.2601 X1006
Doreen.Tollerson@crescentcare.org
Join the faith-based community in raising awareness about HIV
Putting O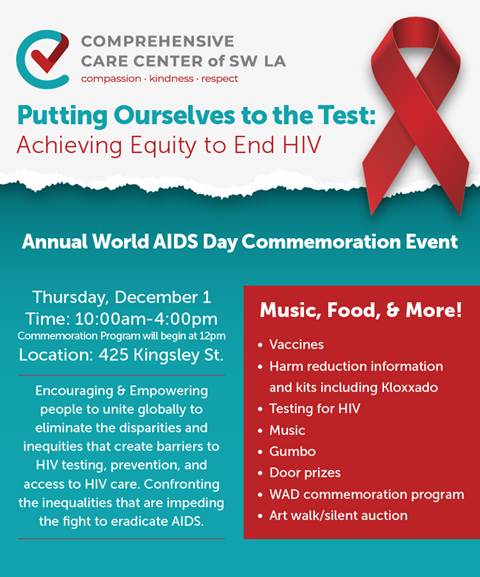 urselves to the Test: Achieving Equity to End HIV
December 1st, 2022
10am-4pm
Comprehensive Care Center of SW LA – 425 Kingsley St, Lake Charles, LA 70601
World AIDS Day Candlelit Procession and Vigil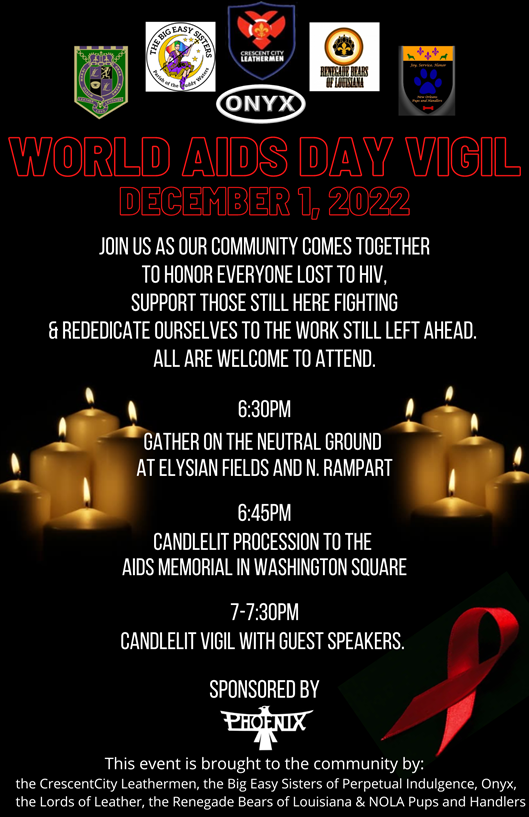 December 1, 2022
6:30pm meeting at Elysian Fields and N Rampart, 6:45pm walking to the AIDS Memorial, 7pm Candlelit Vigil with Guest Speakers
700 Elysian Fields Ave, New Orleans, LA 70117
Contact: jimmy.gale@la.gov
December 2
Wreath Laying Ceremony
December 2, 2022
3:00 pm
Washington Park
700 Elysian Fields Ave, New Orleans, LA 70117
Phone contact: 504-658-7334
Email contact: vchanthala@nola.gov
https://www.eventbrite.com/e/wreath-laying-ceremony-tickets-84639740743
Join us to recognize World AIDS Day at the AIDS Monument by remembering individuals who lost the battle to HIV and celebrate those living with HIV.
HIV 365 Summit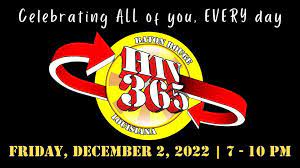 December 2nd, 2022
7-10pm
Cary Saurage Community Arts Center – 231 St Ferdinand St, Baton Rouge, LA 70802
Join the Baton Rouge Ending the HIV Epidemic Commission on Friday, December 2, 2022 for HIV 365, a party celebrating People Living With HIV as whole and unique individuals, in all of our complexities!
The party will include:
Tasty food and beverages!
Exciting entertainers and performances all of sorts!
Storytelling from inspiring folks of all walks of life!
Brief educational segments targeted at improving YOUR quality of life!
Fun swag!
Health Fair, where you can be linked to medical, dental, substance use, harm reduction, and mental health services as well as receive vaccinations and STI testing!
Whole Person Fair, where you can explore housing resources, wholistic practitioners, spiritual resources, and social opportunities!
December 6
Kourtyard Karaoke
December 6, 2022
Time: 3pm -7pm
504.362.1066 ; 504-227-9200
adminassistant@ccfbano.org
Concerned Citizens for a Better Algiers will be hosting the 2nd annual Kourtyard Karaoke to raise awareness about HIV. This event will include refreshments, a special guest performance, door prizes, a karaoke contest and a red balloon release in memory of those people we lost to HIV/AIDS.
Website: ccfbanola.org
December 8
HIV and Aging Policy Panel Discussion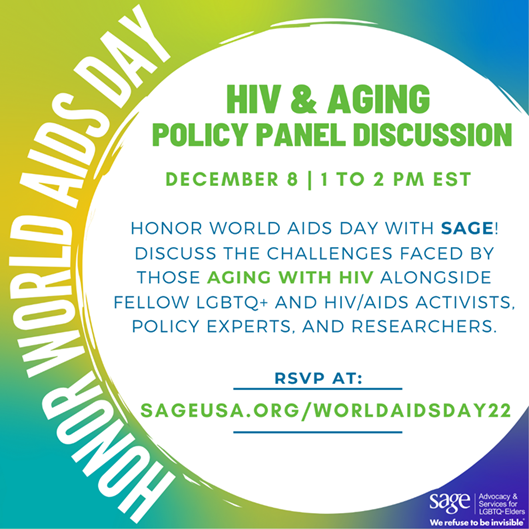 YOU ARE INVITED!
For decades, World AIDS Day has been a chance for people worldwide to stand together in the fight against HIV and show support for people living with HIV. In recognition of World AIDS Day, SAGE will host an online HIV and aging policy discussion on Thursday, December 8th. During this virtual event, HIV/aging activists, policy experts, and researchers from across the nation will discuss the challenges older people living with HIV face and how we can all work together to better address them. We hope to see you there!! Please feel free to circulate. All are welcome.
Date: Thursday, December 8, 2022
Time: 1 -2 PM EST
RSVP at: SAGEUSA.ORG/WORLDAIDSDAY22
December 9
Stigma Summit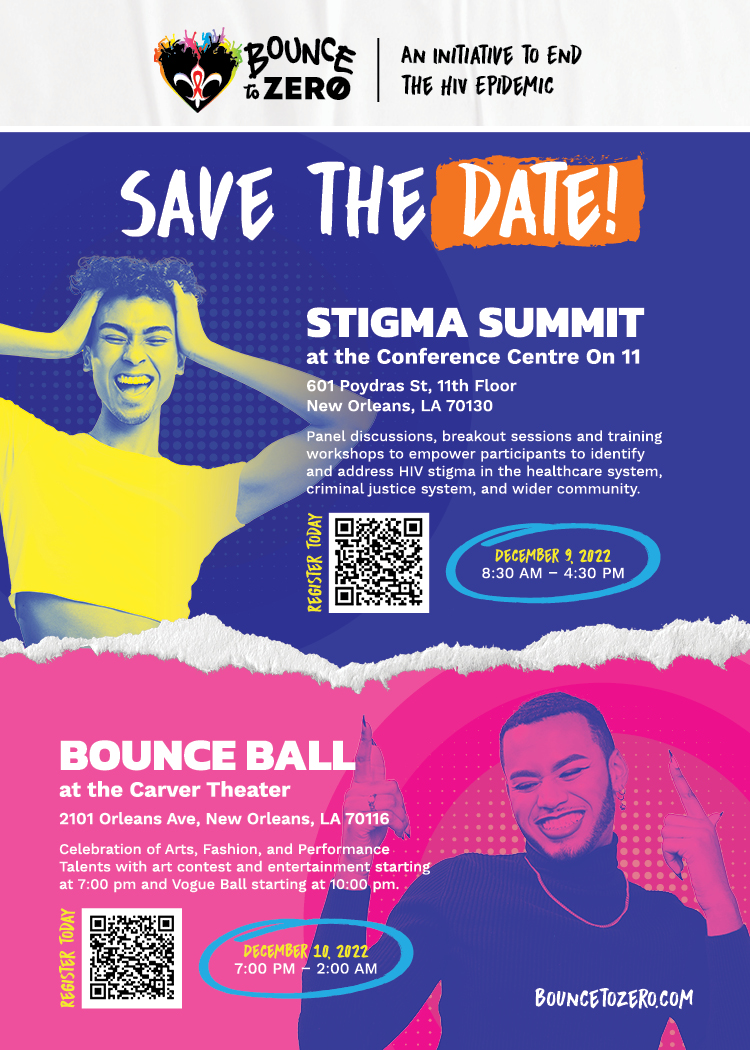 12/9/22
8:30 am to 4:30 pm
Conference Centre on 11
601 Poydras St, 11th Floor
New Orleans, LA 70130
Phone contact: 504-658-2809
Email: daniel.murdock@nola.gov
Healthcare providers and community members are invited to engage in dialogue around HIV stigma in the healthcare system, criminal justice system, and wider community. The Stigma Summit will include panel discussions, breakout sessions, and training workshops to empower participants to identify and address stigma. Registration required.
RSVP: https://www.eventbrite.com/e/new-orleans-stigma-summit-tickets-460461220907
December 10
Bounce to Zero Ball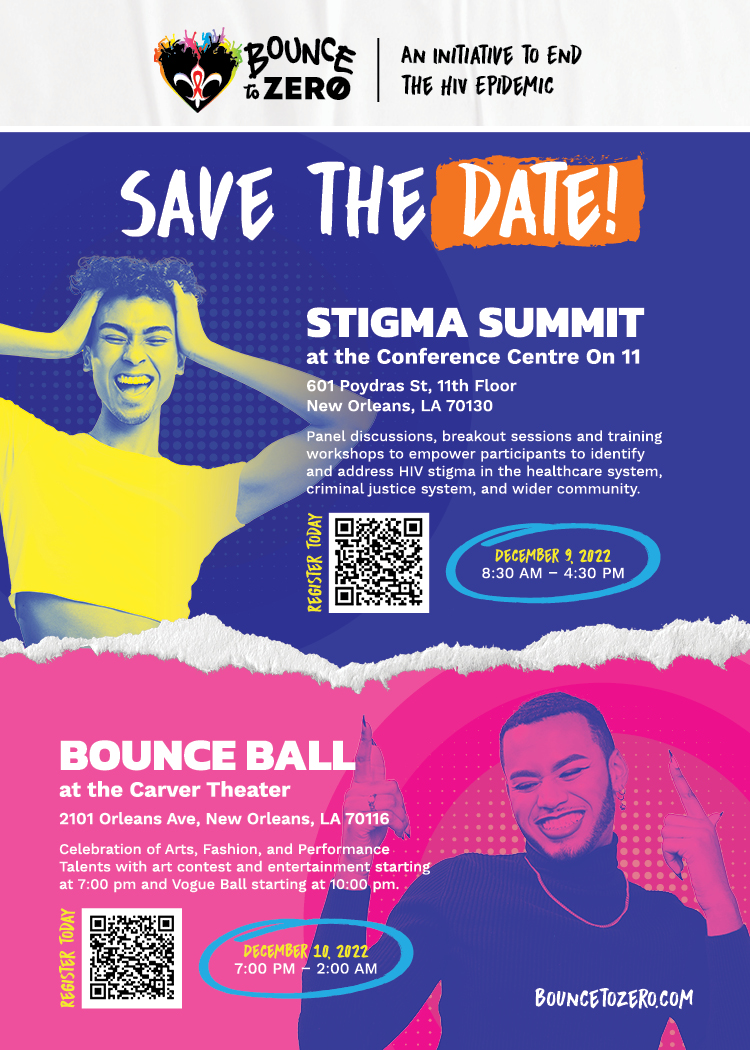 12/10/22
7 pm to 2 am
Carver Theater
2101 Orleans Ave, New Orleans, LA 70116
Phone contact: 504-658-2811
Email: sy'ria.jackson@la.gov
In paying homage to a culture that celebrates the Arts, Fashion, and Performance Talents in every fashion, we welcome you to Bounce to Zero "Vogue Ball". As we launch our campaign, we celebrate the individuals in this new era of NOLA "Ballroom Culture". The event will feature an art contest and entertainment starting at 7:00 pm and a vogue ball contest starts at 10:00 pm. Contact Sy'ria for tabling opportunities or to participate in the activities.
RSVP: https://www.eventbrite.com/e/bounce-2-zero-campaign-launch-ball-tickets-461146972007
December 18
"Tailgate for Life" Saints vs Atlanta game
Date: 12/18/2022
Time: 9am-12pm
Phone contact (if any): (504)-276-5040
Email contact (if any): Ruth Bold, Outreach Coordinator – rbold@phc-no.org
Priority Health care will provide free health screenings, PrEP services, health education information, HIV take-home tests and COVID-19 take-home tests. We would also provide music, refreshments and raffle official Saints gear.
Website: www.priorityhealthcare.org